The Latest Articles, Protocols & Procedures for Your Next Event
A safe return to business means we need real change in how we create event experiences. AGS Exposition Services is actively preparing for the return of events with detailed plans and keeping up with the latest safety guidelines for clean and safe event spaces. Consider this page a central hub for any updates to our Events Guidelines, Best Practices, and Service Standards in response to our current state of events.
We will keep this page updated as we learn new information from the industry and the CDC and WHO organizations, as well as local, state and federal government regulations.
CLICK BELOW FOR OUR GUIDES AND RESOURCES FOR SAFE AND CLEAN EVENTS: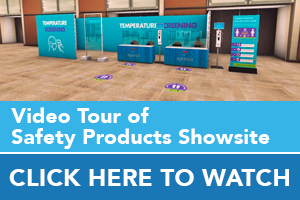 Video Tour of Safety Products on Show Site
There is a safe and productive way to get back to events with the right set of safety structures, graphics and protocols. Click this video tour for a first-hand look of how it can be done or visit our full catalog of safety products. Watch Video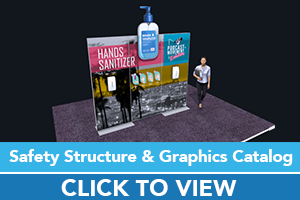 New Line of Safety Structures & Graphic
EAGS has added attractive and innovative new items to a full catalog of safety products. All products meet CDC recommended standards for event venues, and are perfect for branding and sponsorship. See More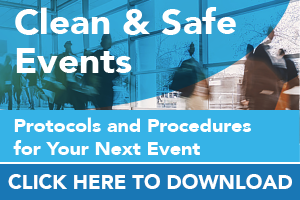 Clean And Safe Events Guide
Essential to moving forward with current events, this Resource Guide is a comprehensive, live document capturing our efforts and industry standards Download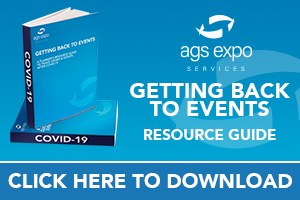 Getting Back to Events Resource Guide
Current best practices and procedures, this is the definitive Clean & Safe Events Guide you need. Download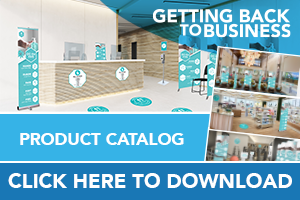 Back to Business Catalog
Business and site solutions to ensure you are prepared for your guests, these products will ensure a safe return to business Download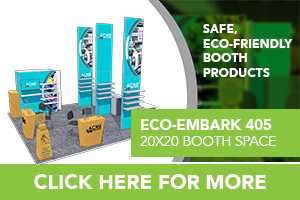 Discounted Booth Solutions for Exhibitors
Deeply discounted custom exhibits and booths , with waived cancellation fees and free designs. Click Here to View Options
LATEST NEWS:
I Attended A Live, In-Person Convention: Here's How The Organizers Tried To Make It Safe (Oct 19, 2020)
"…the result was a realization that a business conference can happen safely today when the organization, hotel, and participants all want it to." (READ MORE)
Harvard researchers discover a surprising reason why Zoom and Skype won't kill business travel (Aug 12, 2020)
"Business travel: Turns out it does more than just fill up the front half of the airplane…The more business travelers a country received, the better its industrial ventures fared, and the higher its GDP climbed." (READ MORE)
Positive findings released from global industry study (Aug 3, 2020)
"The interim findings, comprising over 9,000 responses from 30 countries, have shown that the absence of business events is having a significant negative impact on companies who rely on them." (READ MORE)
Southeast Produce Council Announces Hybrid Experience at Southern Innovations (July 29, 2020)
" It's full-steam ahead for the Southeast Produce Council (SEPC)." (READ MORE)
Philadelphia restricting events through 2021 – not to include conventions and sports (July 16, 2020)
"Public events do not include private meetings, conventions or events held in controlled environments and venues like hotels or the Pennsylvania Convention Center." (READ MORE)
News 6 Orlando – AAU volleyball tournament at OCCC (July 14, 2020)
"Several safety protocols could be easily seen, including health screenings, temperature checks, a mask requirement, and no spectators." (READ MORE)
TSNN – 2 successful shows in June (July 10, 2020)
"Results exceeded all expectations, and show officials report consistent order writing throughout the socially distant marketplace."(READ MORE)
Event Marketer – Why pivot to digital instead of cancelling (July 9, 2020)
CANCELING YOUR EVENT? FOUR INSIGHTS ON PIVOTING TO DIGITAL (READ MORE)
INDUSTRY RESOURCES & NEWS: