Written by Darren Green, CEO, November 30th, 2020
New Virtual Production Services A Big Hit With Show Management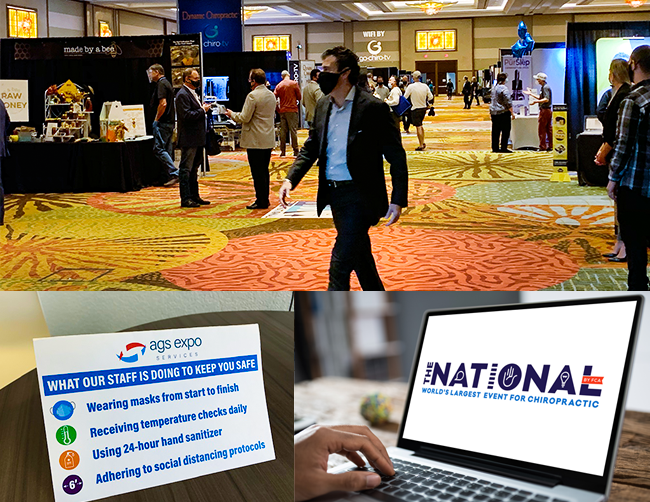 AGS produces live chiropractic expo with 1250 attendees & 275 virtual participants
AGS deploys new suite of virtual production services, with great success
AGS' virtual platform, GoVirtual, helps FCA launch first-ever online CE certification
I'm excited to share some updates that spell good news for our industry. AGS Expo just finished the fourth hybrid event for the Florida Chiropractic Association, including FCA National, one of the world's largest chiropractic meetings and expos for chiropractic professionals. At this year's meeting, held in Orlando, Florida November 19-22, participants were treated to the the best of both words: a full-on virtual experience for those unable to attend in-person, along with an actual LIVE event for over 1200 attendees and nearly 200 exhibiting companies.
Creating a healthy environment so everyone could get down to business was a priority. We deployed our safety & cleaning protocols, and used items from our new line of safety structures and graphics, — transforming spaces for registration, education, networking and exhibiting. From sanitation stations and registration counters with built-in plexi safeguards to floor safety graphics and one-way aisles in the exhibit hall, we were happy with how the things turned out. Take a minute to check out photos from the event.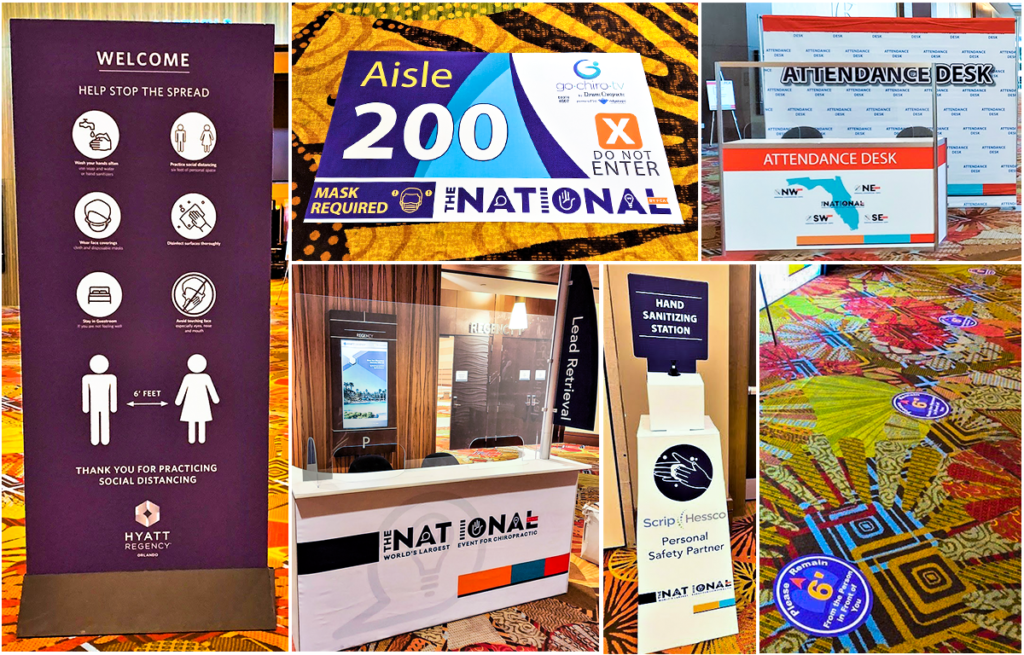 AGS is always adding to our mix of safety structures and graphics. Click here for video walk through of what a live safe event looks like with these safety products.

FCA also leveraged AGS' new turnkey virtual production services to host nearly 300 virtual attendees and 185 virtual exhibitors. Like so many event planners, FCA understood they needed an online option, but lacked the staff, expertise and time to execute one. Our team of certified account managers handled everything, from platform set-up and launch to training, speaker onboarding and critical day-of-event services. Jen Porro, from FCA, appreciated the team's "blood, sweat and tears" approach, and how "naturally and quickly the virtual component came together."
Virtual participants were also, in her words, "thrilled with the online event platform, it's ease and the connections they made" over the three-day event. The association was even able to offer online CE certification, for the first-time in its history, through the platform. We take particular pride in this because FCA used AGS' new online event platform, GoVirtual, to make this happen.
We absolutely love it when our services and technologies are used to problem-solve and provide enhanced event experiences!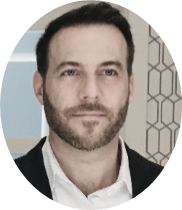 Darren Green CEO, AGS Expo Services
Virtual Production Services Event Photos Online Event Platform
«

Back